Friday good news blogging
In the midst of corporate fraud, political turmoil, and a nonstop barrage of IDiocy and ignorance from the right, it's nice to stop and reflect on something pleasant that makes me proud to be human. (Or maybe I just want to plug something really cool.) Pie fanatics, art connoisseurs, one and all, there is hope. The Pie of the Month Club has opened membership to the general public!!!
What better way to celebrate humanity than with pie and pie-related art, like this great antique-botanical-style illustration of a pecan pie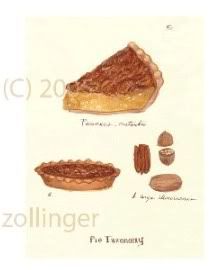 or this awesome mini pie sculpture?
Got a pie question? Just ask The Pie Expert! Members receive one cool postcard every month, which features a recipe for a pie and cool original artwork by the Pie Expert extraordinaire! Such as: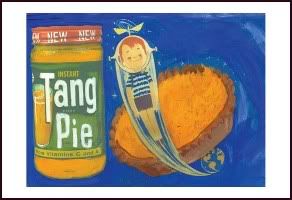 Okay, I'll stop before this sounds anymore like an infomercial. But be warned, you can't wear the P.O.T.M.C shirts to church functions because they have the word POT on them...yes, seriously.